WEST VANCOUVER (NEWS1130) – A daring, dangerous rescue on the North Shore has ended in success.
Late last night, a Canadian Forces Cormorant helicopter plucked missing snowboarder Sebastien Boucher off Black Mountain near Cypress. The 33-three year old snowboarder went out-of-bounds on Sunday.
Bruce Moffat with North Shore Rescue says searchers found him in a gully. "He's just bulled his way… taken us on quite a journey through the mountains."
"We wished that didn't happen but it's kept him warm… He's a very fit guy [with a] great mental attitude, and he's in amazing shape considering what he's gone through," explains Moffat.
Nicolas Potvin flew here from Ottawa to be with his friend, who he calls that guy who takes charge and "does his own thing."
"He's got that aura about him; he's just a good person. We will make mistakes sometimes and that's what happened when he went off trail, but we learn from our mistakes and thankfully he'll be around to learn from his."
He's apparently suffering from exposure, but is stable with no major injuries.
Boucher's mother, Micheline Simoneau, couldn't be happier. "Those guys, the rescue people, thank God, they were angels. They're the best in the world. It's because of them he's going to be fine after 25 hours."
Potvin says he'll wait until the doctors clear Boucher, and then he'll punch him in the shoulder.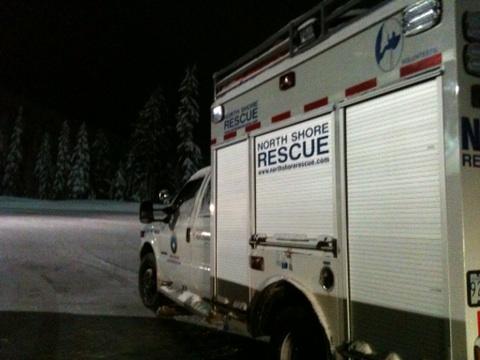 Boucher's stepfather, Yvon Simoneau feels relieved, grateful and has other mixed emotions. "We may wring his neck first and then hug him after, especially after telling his mother that he was not going out of bounds on a snowboard."
But Simoneau isn't surprised he survived being out in the cold for three days. "[His friends] call him Rambo, and there's a reason why they call him Rambo. If you think he's going to cover five acres, he will have covered fifteen or twenty acres."
Search efforts were hampered by poor weather and the risk of avalanches. Once Boucher was lifted off the mountain, he was brought to hospital only as a precaution.
Rescuers say being extremely fit helped him stay in excellent condition.